by Frank Donze, The Times-Picayune
Thursday May 14, 2009, 10:27 PM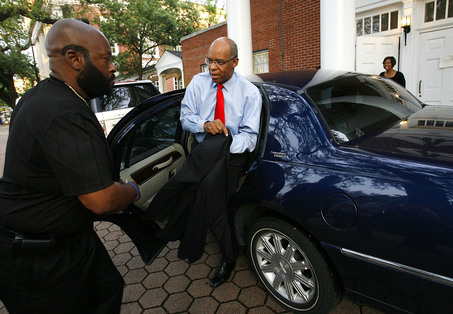 Chris Granger / The Times-PicayuneFormer U.S. Rep. Bill Jefferson steps out of his car Thursday for the Friends of William Jefferson event at the Watson Memorial Teaching Ministries Fellowship Hall on St. Charles Ave. in New Orleans

Less than three weeks before a criminal trial that could send him to prison for the rest of his life, former U.S. Rep. William Jefferson basked in the warm glow of kind words from friends and supporters who gathered Thursday night to remember his three decades as an elected official.

There was no direct mention of the pending court proceeding during two hours of testimonials and spiritual music, though several speakers referred to the "challenge" that Jefferson, 62, will face soon.

"We're here to say we love you, we're with you and we'll hold hands with you, " said the Rev. Tom Watson, who hosted the "celebration of service" at his ministries' fellowship hall on St. Charles Avenue.

Addressing the upcoming legal ordeal, Watson told about 100 attendees that "God has the power to move it out of the way."

Jefferson appeared relaxed as he welcomed his guests to a reception that offered punch and finger sandwiches and a performance by Kermit Ruffins.

The night was punctuated by emotional moments, most notably when Jefferson's longtime pastor, Bishop Paul Morton, summoned the ministers in the hall to the front of the room while he sang a spiritual. During Morton's performance, the members of the clergy stood in a semicircle and laid their hands on Jefferson and his wife, Andrea.

Later, Morton implored the crowd to offer contributions to help defray Jefferson's legal expenses.

The organizing committee included several local businessmen, and some of them took the microphone to reflect on Jefferson's accomplishments, capped in 1990 when he became the first African-American to represent Louisiana in Congress since the late 19th century.

Liberty Bank President Alden McDonald echoed the sentiments of most speakers when he said he accepted the invitation to participate without hesitation.

McDonald, who called his longtime friend a "legend" and a "history maker, " said Jefferson played an integral role in ensuring that Southern University in New Orleans received equal financing for education programs and infrastructure.

"You don't know how many hearts, minds and bodies you've touched, " McDonald said.

Robert Tucker, a consultant and close adviser to former Mayor Marc Morial, said Jefferson "changed lives."

Tucker told the attendees that if they are asked later why they bothered to attend, they should describe the "who's who" of New Orleans who came and describe how "love permeated every corner of that room."

Public housing activist Sharon Jasper recognized Jefferson for his dogged commitment to helping displaced residents return to the city after Hurricane Katrina.

Banker Charles Teamer offered the only moment of gallows humor when he said, "We're here to praise Bill Jefferson, not to bury him."

The only elected official in the room was Jefferson's sister, Assessor Betty Jefferson, who also is awaiting trial on unrelated charges.

Other notables who were there included former state Sen. Sammy Nunez; Jefferson's protege, former City Councilwoman Renee Gill Pratt; former School Board member Elliot Willard; and Trevor Bryan, Jefferson's former law partner.

In brief remarks, an upbeat Jefferson looked over toward former colleague Nunez and said, "if we have an epitaph, it's that we had a good time and that we got a lot of good things done."

Surrounded by his wife and four of his five daughters, he thanked supporters for a night he would never forget and asked them to "keep us in your prayers and thoughts."

He said he "looks forward to getting over the humps and bumps in front of us."

Jefferson is facing a 16-count federal indictment that accuses him of funneling bribes to family-owned businesses in exchange for helping companies get business deals in western Africa. The former nine-term congressman is scheduled to stand trial June 2 in federal court in Alexandria, Va.

After surviving a Democratic primary and runoff last fall, Jefferson, who was indicted in June 2007, was defeated in a hurricane-delayed general election in December by Republican Anh "Joseph" Cao.

. . . . . . .

Frank Donze can be reached at fdonze@timespicayune.com or 504.826.3328.