by Staff and wire reports
Tuesday July 07, 2009, 12:30 PM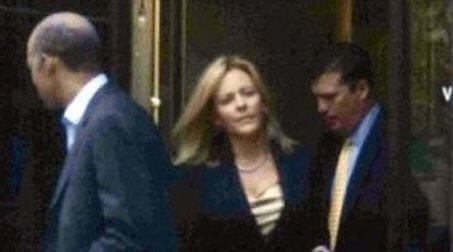 FBI surveillance photoGovernment surveillance photo shows former Rep. William Jefferson, left, Virginia businesswoman Lori Mody, and former Jefferson aide Brett Pfeffer leaving the Export-Import Bank.

ALEXANDRIA, Va. -- A federal jury has seen video of a former Congressman William Jefferson accepting a suitcase filled with $100,000 in cash outside a northern Virginia hotel.

The videos played today are a key piece of evidence in the bribery trial of the Democrat who represented the New Orleans area for nine terms. He's accused of accepting more than $400,000 in bribes to broker business deals in Africa.

The FBI recorded the pickup from four different angles, all of which were shown to the jury.

According to the 16-count indictment against Jefferson, on July 30, 2005, in a parking lot outside the Ritz Carlton in Arlington, Va., he accepted a briefcase from Virginia businesswoman Lori Mody with $100,000 in bills marked by the FBI. That money, the prosecution maintains, was the down payment on a bribe to Atiku Abubakar, then vice president of Nigeria.

On the video, Jefferson seemed wary of accepting the money in public. When asked by Mody if he wanted to peek inside the suitcase at the contents, he tersely replied, "No, I would not."

However, when FBI agents raided Jefferson's homes in Washington and New Orleans on Aug. 3, 2005, and the Abubakar home in Potomac, Md., they found $90,000 of the money, undelivered, safely stored away in the freezer of Jefferson's Capitol Hill home.

Jefferson's attorneys have said he had no intention of bribing anyone and the money was put in the freezer for safe-keeping. About half of the remaining $10,000 was accounted for as a loan made to a Jefferson staffer; the remainder was returned to the federal government.